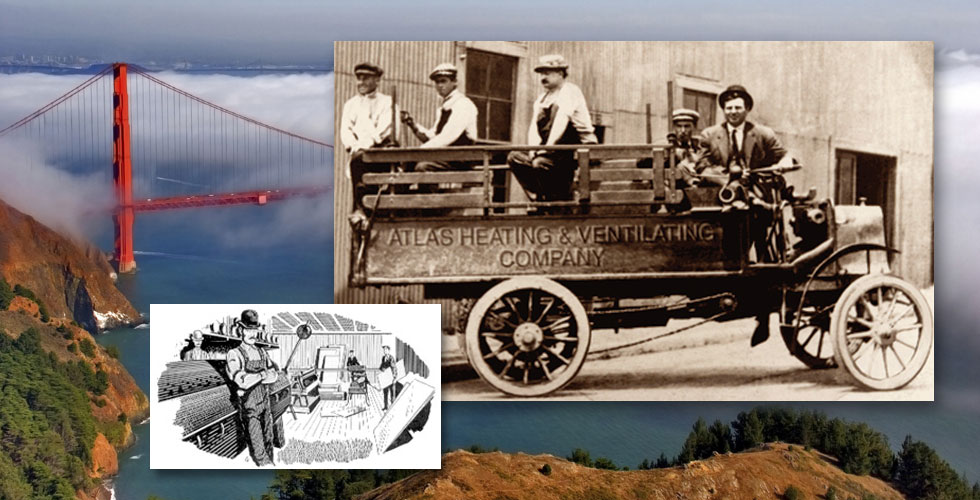 As the oldest heating and ventilating company in the Bay Area (founded in 1908), Atlas has been as much a part of San Francisco as the cable cars and Golden Gate Bridge, helping to rebuild the City after the 1906 earthquake.
Atlas' history is a veritable history of the furnace itself. In 1908, most homes were heated by pot-bellied stoves or kitchen ranges. George Tuck, the founder of Atlas, designed and manufactured wood and coal furnaces, establishing Atlas as the largest installer of "warm air" furnaces in the Bay Area.
Always an innovator, Tuck next developed the Atlas gas furnace for manufactured gas. He also invented the first integrated blower furnace and safety pilot light. With the advent of natural gas, the firm's all steel furnace became a leader in the industry.
Atlas' reach extended beyond the Bay Area with projects from Alaska to the Philippines, the Panama Canal and Saudi Arabia. San Francisco became the biggest builder of gas furnaces in the country from the mid-1930's to World War II.
Atlas heaters have warmed such notable structures as the Stonestown Shopping Center and the Civic Auditorium, Fort Mason and the University of California classrooms, Postrio & Masas restaurants, the Mark Hopkins and the Hall of Justice. Former clients have been no less illustrious, including Jack London and Diane Feinstein. In 2015 the name Tuck Aire Heating and Air Conditioning was added as a DBA. This was to let customers know that the Atlas furnaces were re-branded as Tuck-Aire in 1958.
The family-run business has continued to prosper guided by four generations of Tucks. Today, Geoff Tuck is the president of Atlas Heating and Ventilating, a company still at the forefront of heating and ventilating (HVAC) technology, representing major national brands and specializing in residential and light commercial work.
Give us a call: 650-873-7000